The 1st International Symposium on Entrepreneurship, Blockchain, and Crypto-Finance is jointly organized by the Telfer School of Management of the University of Ottawa, Canada; IPAG Center for Energy Economics and Environment; IPAG Institute for Entrepreneurship, Digital innovation and Performance; University of Paris 8; ESSCA School of Management; and the University of Tunis Carthage, Tunisia. It will take place on 24 and 25 of April 2019 at the University Tunis Carthage. The event aims to provide academics, policymakers, and practitioners with a valuable forum for discussion and critical analysis of the major issues and challenges interrelating Entrepreneurship, Crypto-Finance, and Blockchain.
KEYNOTE SPEAKERS
Dominique Guégan, Professor Emeritus, University Paris1 Panthéon-Sorbonne, France
Prof. Dominique Guégan is Emeritus Professor at the University Paris1 Panthéon-Sorbonne. Her domains of expertise are Risk measures in finance – Financial Regulation - Deterministic dynamical systems- Nonlinear time series - Non-parametric statistics – Contagion and Systemic risks – Extreme value theory – Fintech technology. She belongs to the LaBex "Financial Regulation", through the Finance team of the University Paris 1 – CES and she is affiliated to the Financial Engineering Department inside NYU (New York, USA) and to the IPAG Business School (Paris and Nice, France). She has supervised 37 Ph.D. and published 10 books, 110 academic papers, and 30 chapters. She also participates to several international projects supported by Governments or supra-national bodies, and she is regularly invited to the most well-known universities in Europe, USA, Australia, and Asia.
Leo Paul Dana, Distinguished Professor, Montpellier Business School, France & Marie Curie Fellow at Princeton University, USA
Léo-Paul Dana, a graduate of McGill University and of HEC Montreal, is Professor at Montpellier Business School and Marie Curie Fellow at Princeton University. As well he holds the title of Adjunct Professor at the University of Regina, in Canada. He formerly served at the University of Canterbury and prior to that as Visiting Professor of Entrepreneurship at INSEAD and Deputy Director of the International Business MBA Programme at Nanyang Business School, in Singapore. He has published extensively in a variety of leading journals including the British Food Journal, Cornell Quarterly, Entrepreneurship & Regional Development, Entrepreneurship: Theory & Practice, International Small Business Journal, Journal of Small Business Management, the Journal of World Business, and Small Business Economics.
Chris Georgen, Topl, USA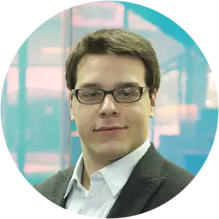 As Founder and CEO, Chris leads the design Topl's blockchain platform. He obtained degrees in Mathematics, Chemical Physics, and Philosophy from Rice University. During his time in college, Chris performed interdisciplinary research focused on emergent phenomena in complex systems and developed the core economic theories that led to the founding of Topl. He has a deep interest in the application of new technologies to economic and financial problems and is motivated by the potential for new economic systems to improve standards of living around the world.